Dienstag, 9. August 2005
Temptation Blocker // Freeware-Tool
Man trickst sich ja immer wieder ganz gerne selber aus - es gibt eine Deadline für ein Projekt und eigentlich hat man üüüüüberhaupt keine Zeit Half Life 2 zu zocken oder "nur noch einen Blog" querzulesen. Damit man sich also nicht ständig selbst bescheisst, und irgendwann um Zwei Uhr in der Nacht mit der eigentlichen Arbeit beginnt, gibt`s nun "Temptation Blocker".

Mit diesem kleinen Tool lassen sich bestimmte Programme für eine festgelegte Zeit nicht mehr starten. Ob man sich diese elektronische Fussfessel wirklich anlegen will muss jeder selbst wissen - aber Ihr wisst ja: "Der Geist ist willig, aber das Fleisch ist schwach" ;)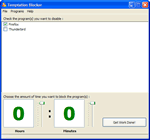 Electronic Ennui
Nette, kleine Kolumne über das nachlassende Feeling beim Zocken von Nostalgie-Games:
...However, I've found that there are limits to the power of my nostalgia. Simply put, while I can sometimes recapture some of the joy of gaming days gone past, I often find it difficult to put myself in the necessary mindset to fully appreciate a piece of beloved old software. Let me try to explain...
»
weiterlesen...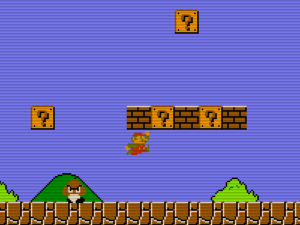 Mein Daumen...
...tut weh. Eine Woche durchzocken fordert seinen Tribut...