Freitag, 22. Juli 2005
PartyPic-Marketing
...Man kann ja gar nicht mehr weg gehen, ohne seine schweißgebadete Kackfresse in Drei-Promille-Mimik am nächsten Tag von Freunden via Link gezeigt zu bekommen. Zu oft kann man sich selbst gar nicht mehr an den Moment der Aufnahme erinnern, geschweige denn überhaupt in dem Club gewesen zu sein.
Dank fortschreitender Digitalkameratechnik sind die Aufnahmen selbstverständlich auch in A3 Überformat 300dpi verfügbar, so dass sich die ganze Welt deine Gesichtsfünf an die Dartscheibe im Vereinsheim hängen kann...
»
weiterlesen...
Zukunftsmusik
Der Popkulturjunkie hat heute die Erscheinungstermine aller "relevanten" Alben der kommenden Monate gepostet - einiges an interessantem Stuff dabei. Folgende Alben werden dabei wahrscheinlich auf meinen Wunschzettel wandern:

- 22.08.2005 Björk - "drawing restraint 9″ (OST)
- 12.09.2005 dEUS - "pocket revolution"
- 12.09.2005 Sigur Ros - "takk"
- 10.10.2005 Red Hot Chili Peppers - "title tba
- 17.10.2005 Depeche Mode - "playing the angel"
- Herbst 2005 Marilyn Manson - title tba
- Winter 2005 The Sisters of Mercy - title tba
- 2005 Guns 'N Roses - "chinese democracy" (Guns´n´fuckin´Roses?? Hatten wir nicht erst kürzlich das Thema, dass das Album sowieso nie erscheinen wird??)
- Frühjahr 2006 Blur - title tba
- Frühjahr 2006 Radiohead - title tba
- Sommer 2006 Green Day - title tba
- Sommer 2006 R.E.M. - title tba
- 2006 Nine Inch Nails - title tba
- 2006 Smashing Pumpkins - title tba

Von
psycko
um
15:22h
|

2 Kommentare
|

comment
|

Konsum
I am a Breakout Bat
I am an abstract sort of creature, who dislikes any sort of restraint. If you try to pigeonhole me, I'll break the box, and come back for more. I don't have any particular ambitions, I just drift, but I am adept at keeping life going along.

(If you were not a Breakout Bat you would be an Asteroid.)
»
What Pre-1985 Video Game Character Am I?
Die Anstalt
Jaaa - nach vielen, vielen Monaten gibt es bei parapluesch.de endlich ein neues misshandeltes Kuscheltier, dass therapiert werden muss: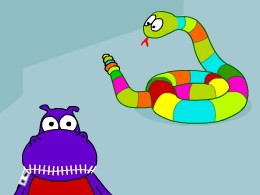 Von
psycko
um
12:01h
|

1 Kommentar
|

comment
|

Fun-Stuff